Adopted from a famous game "Dota 2". this is a customize pvp with rank and different ladder
Explaination:
1. This match is count as 3 type of match and all winning and losing will be recorded as points
1 vs 1 , 5 vs 5 and 10 vs 10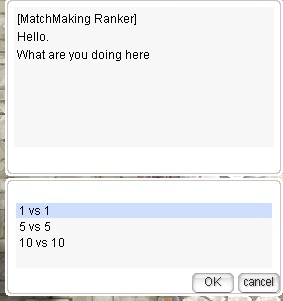 Note: This pvp will using Battleground Style to count points per match
Auras will currently disabled when playing pvp rank match
2. Each winning,losing or draw will also gain points
winning get +25 point
losing get -25 point
draw get 10 point for each player
3. Everyone will be set as same point as 1000 MMR for first time
For more information you can give a try in game
Enjoy ~ !!
Hello World!:
- Forum Sedang dalam perbaikan.
- tesy